SBTC Club Kit
Stand out and feel like part of the Green Army with our range of club kit offerings. Guaranteed to get you a cheer on race day. We offer several quality options to accommodate your preference and budget.
Updated November 2022
SCODY
There are two ways for ordering our Club Kit through SCODY.
1. SCODY Private Shop – LIMITED ORDER WINDOW
Each year SBTC organizes 2-3 SCODY Private Shop openings for SBTC custom gear. SCODY will list on their website the garments we've nominated for that private shop. A minimum order quota is required.
The SCODY Private Shop is opened for 2 weeks for members to place their order.
After 2 weeks, the shop is closed. If the minimum is not met, the shop window may be extended. The custom Garments are then printed and manufactured locally by SCODY in 6-8 weeks.
Items usually listed in the private shop are
Sleeveless Elite Triathlon Suits
Performance Sleeved Triathlon Suits
Optimize Race Fit Cycling Jerseys
Cycling bib and brace
Spray Jackets
https://www.scody.com/private-shop
2. SCODY 24/7 Shop – ORDER ANYTIME
Garments with less cuts of fabric are offered in the SCODY 24/7 Shop for order anytime. Please allow 6 weeks as each item is made to order.
Performance Run Singlet, Ultra Light Weight (Green)
Run Shirt (Green)
Pink options coming soon
Relaxed fit cycling jersey coming soon
www.scody.com/135-southbank-tri-club-247
SCODY Sizing
Sizing between different manufacturers varies widely. Unless you have worn one of our garments before or can try the garment on there is a chance that you will order the wrong size.
Please see SCODY sizing page
HERE
for more information.
To avoid disappointment, you are strongly encouraged to visit the SCODY shop front at Seventeen Mile Rocks and check your size prior to ordering. You can plan ahead and visit the shop any time of the year to check your size.
---
SBTC
SBTC Shop – ORDER ANYTIME
The SBTC Shop stocks a range of lower cost items for your convenience, including:
Cycling socks
Caps and visors
Buffs
V-Tags
Finally, there's a handful of older OZTJ singlets and shirts priced to clear in very limited sizes.
https://sbtcshop.square.site/shop/3
SBTC Marketplace
This is a Facebook Marketplace group to buy/sell second hand SBTC club kit and other triathlon gear from current and past members. Please contact a committee member or ask on Facebook for an invite. HERE
Is there a particular item you're after? Consider asking in the group.
Got a question? Please contact Robin Martin via merch@sbtc.com.au
---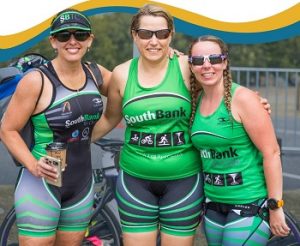 SCODY Private Shop Order Windows
Current planned order windows. 
Please be aware, if you miss an order window, you'll need to wait for the next private shop opening, which may be some months away.
Order Window – Monday 7th – 21st November 2022
What's available: woman's and men's
Sleeveless Elite Triathlon Suits
Performance Sleeved Triathlon Suits
Optimize Race Fit Cycling Jerseys
Cycling bib and brace
Spray Jackets
Expected delivery: Late February (date to be confirmed)
Order Window – Monday 7th – 21st August 2023
What's available: woman's and men's
Sleeveless Elite Triathlon Suits
Performance Sleeved Triathlon Suits
Optimize Race Fit Cycling Jerseys
Cycling bib and brace
Spray Jackets
Expected delivery: Late October 2023 (date to be confirmed)