The Queensland Tri Series continued with the racing heading up to Moreton Bay under some pretty dark and rainy skies with athletes able to take on one of three distances including the 'Classic' distance which is a bit of a middle ground between olympic and long course racing (2km Swim, 60km Bike, 15km Run) and this was a great opportunity for clubbies to either test themselves out as a step up on the way to longer races, or else for some to have a bit of a hit out early in the season to see how well the training has really been going.
While the weather was super wet both in the lead-up to and during the event, the conditions for the swim were actually about as good as you could hope for (although a few more sighting buoys might have been handy as plenty of people strayed off course on the long back straight) but the wet conditions made staying upright on the bike the main concern for most athletes out on course… and of course (because, Queensland !?) the sun came out and it got pretty hot and humid just in time for most people to be out on the run course.
This race was the Club Championships for Triathlon QLD affiliated Clubs & Squads, as well as this being the 'Graduation Race' for our most recent group of Beginners – with their 6 week Beginners & Return to Tri program culminating in their participation in this race.
Awesome work to all athletes who gave it at crack, and especially to all those Bankers who gave it their all in all 4 legs.
A summary of results from all the clubies on course are below (apologies if we have missed anyone – if so please let us know) and if you want to see in a bit more detail, check them out here.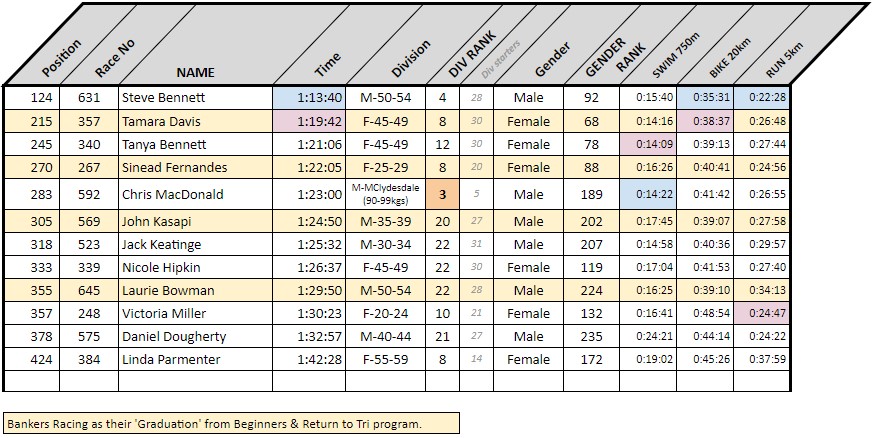 When looking through the results, we couldn't find any clubbies in there – but sometimes it's a bit tough with the formatting of races and people's names and sepelling sometimes being stuffed up. If we have missed someone it's not on purpose – please let us know and we can fix it up.
Wow, there were some really great performances from our beginners group. Wee done to all the beginners who raced, showing that you've all really made some great progress during the past 6 weeks or so. Also a bigh thankyou and well done to our club coaches Simon, Duncan, Tiff, and Nicole as well as our Member Liasion Officer, Heather, who all worked together to run this course. 👏👏👏
Also a big shout-out to our Raceday Coordinator, Tiffany Dahl, who put on a great breakfast for everyone and organised the setup of the tent – also with a bigh thank you to the Cartys for supporting and bringing out the tent.
B.O.G. Award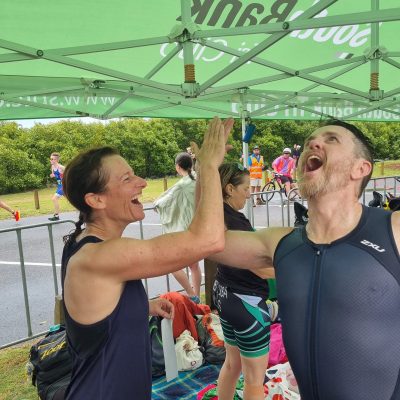 The award for 'Best On Ground' has to go to Tamara Davis who had an absolutely cracking race in the Sprint distance having been part of the beginners course over the last 6 weeks. A great performance across swim, bike, and run – just staying ahead of fellow beginners course graduate Sinead, who was snapping at her heels… and Tamara got stuck-in for the 4th leg as well – enjoying the 'refreshments' put on by our race day team (who doesn't love a breakfast beverage every now and then!
) .
But a close second for B.O.G. was really everyone on couse who managed to:
Keep the rubber on the road for the whole of the bikeleg (with a certain former club president who shall remain nameless proving this is sometimes beyone even experienced triathletes)
Paid attention to the AIG / followed the correct run course – as 3 out of the first 5 athletes across the line in the Classic Distance race managed to take a wrong turn and get themselves disqualified.
Well done Tamara, you have earned a 'PTO Cheer'!
This race report was written by Matt Thompson… I think we are all getting pretty sick of hearing from him – so if any SBTC Clubbies want to put up their hand to write a race report for an upcoming event, please reach out to the Communications Officer at media@sbtc.com.au