A small but mighty contingent of clubbies made the pilgrimage to Australia's oldest Ironman event at Port Macquarie last week, to be the crash test dummies for the new Port Mac bike course (note: no-one actually crashed, although Chrissie Bowie did get a flat tyre). 
The day started with a slightly chilly, yet otherwise picture perfect day that resulted in some impressive and somewhat super-human swim times. Coach Anthony swam so fast he was instantly hungry. Paparazzi snapped him having a snack while running down a set of stairs and stripping off his wetsuit. Who says men can't multi-task?
The new bike course received positive reviews from anyone who was asked by Pete Murray. Which was exactly two people, but 100% of them gave the thumbs up. The wind picked up towards the afternoon and only became more aggressive into the night. Supporters' beers were knocked off tables, and many runners lost their hats (and marbles).
Paparazzi tried to snap Coach Anthony wearing his shiny new SBTC outfit however the wind proved too much for fashion and it stayed hidden underneath a fluro yellow, long-sleeved number for the entire run. But the hat was fabulous, and stayed atop his head despite the wind.
Awesome work to all athletes who gave it at crack, and especially to all those Bankers who gave it their best in all 4 legs.
A summary of results from all the clubies on course are below (apologies if we have missed anyone – if so please let us know) and if you want to see in a bit more detail, check them out here.

Ironman 70.3 Port Macquarie

Anyone who has been through an ironman finishing chute, or cheered someone through an ironman finishing chute, knows that it is the ultimate highlight of the day. The finisher chute at Port Mac was no exception, although this time it was extra exciting seeing the top two pro male athletes finish within 46 seconds of each other. You don't expect a sprint finish in the last 200m of an ironman, and it was incredibly exciting.
B.O.G. Award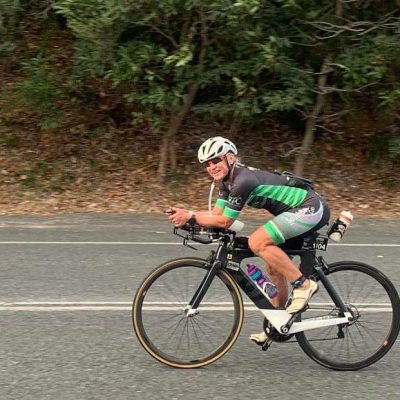 Best on ground goes to Chrissie Bowie's smile! You could see her grin before you saw her. She kept smiling regardless of flat tyres, wind, and some crappy gastrointestinal upset. Despite this, she snagged a second place in her age group and grinned all the way to the podium. Well done Chrissie!!
She also made such an impact on the Paparazzi in the finisher chute that she made the promo video (~5:40 min in the video below)!
This race report was written by club President, Fiona Fewtrell.
If any SBTC clubbies are keen to help out with writing up a race report for an upcoming event, please email our Communications Officer at media@sbtc.com.au