A TOTY race and many clubbies' favourite race of the year – Moo 2023 was a cracker! The weekend saw a great turnout of the Green Army and supporters.
Saturday was off to a great start with Tamara Davis, Tarn Bennett, Lucie Ayotte, Daniel Gibbs, Sue May Liow, Rebecca Scott, Leteisha Yim, Megan Stanley, Lesleigh Winks and Heather Farrell taking on the sprint course. The perfect swimming conditions were followed by a challenging bike leg on wet roads and a very hot and humid run. This didn't stop clubbies having a great race and smashing some PBs. A big congrats goes to Lesleigh Winks and Heather Farrell who raced together. Lesleigh completed her longest ever open water swim with Heather by her side the whole time. The smiles and hugs coming out of the water say it all – these ladies are absolute legends!! A special congrats also goes to Tamara Davis for taking 5th place in her age group followed by Tarn Bennett at 6th place (the friendly club competition was a nailbiter!), and to Daniel Gibbs for backing up his graduation race at Raby Bay with a sprint at Moo.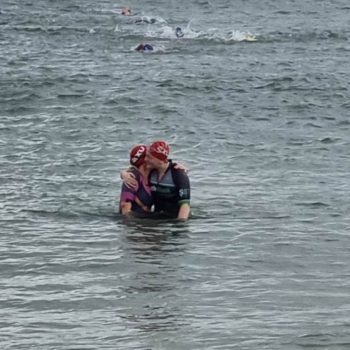 Sunday saw the green army out in force again. A HUGE number of clubbies tackled the stifling heat and made those of us cheering from the sidelines wonder why anyone would want to do this sport. But the answer was clear – these people are tougher than nails, harder than diamonds, and more fearless than a woman singing karaoke after too many wines. Oh wait…that was just me. I'm getting my weekends mixed up again. Anyway…
Huge kudos to the following clubbies for getting out there and showing what SBTC is made of:
Pieter Van Heerden, Michael Dixon, Steve Kelly, Simon Humphries, Steve Bennett, Brett Ronnfeldt, Tamara Mccombe, Chris Mead, David Witham, Nicolas Bianchi, Darren Earle, Harry Fisher, Lorna Radford, Corie Williamson, Chrissie Bowie, Matthew O'sullivan, Sue Kerkow, Andrew Jacobsen, Anthony Fletcher, Michael Wilson, Gillian Thomas, Mark Cappellone, Paul Miles, Chris Macdonald, Thomas Whibley, Adrijana Freeman, Eamon Barker, Jack Keatinge, Nicole Hipkin, Phil Simpson, Kate Mcclure, Nathan Barnard, Nick Alexander, Tiffany Dahl, Linda Parmenter, Isabella Meda, Cameron Staib, Nicola Debuse, Elizabeth Cussans, Katy Le Roy, Fabian Spescha, Sonya Stacey, Glen Grice, and the superstar team consisting of Heather Farrell (swim), Ash Amirshahi (bike) and Janet Smith (run).
A special congratulations goes to Michael Dixon for taking out third place in the male 60-64 divison, and to the following clubbies who all made the top ten in their age group – Pieter Van Heerden, Tamara Mccombe, Chris Mead, Darren Earle, Chrissie Bowie, Sue Kerkow, and Nicola Debuse.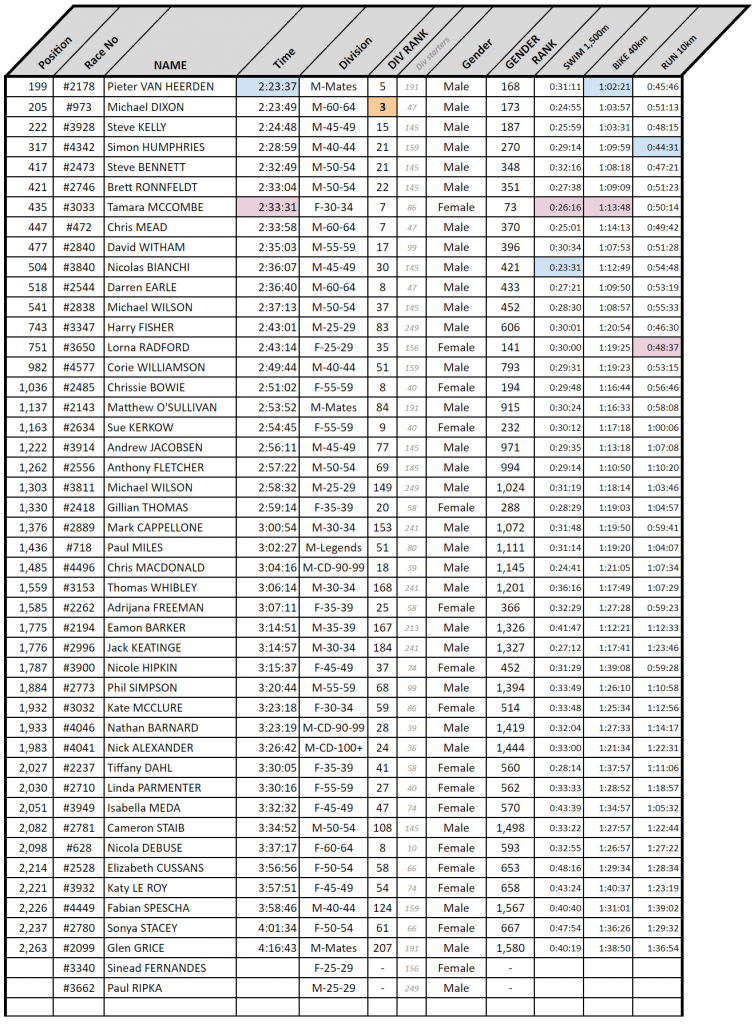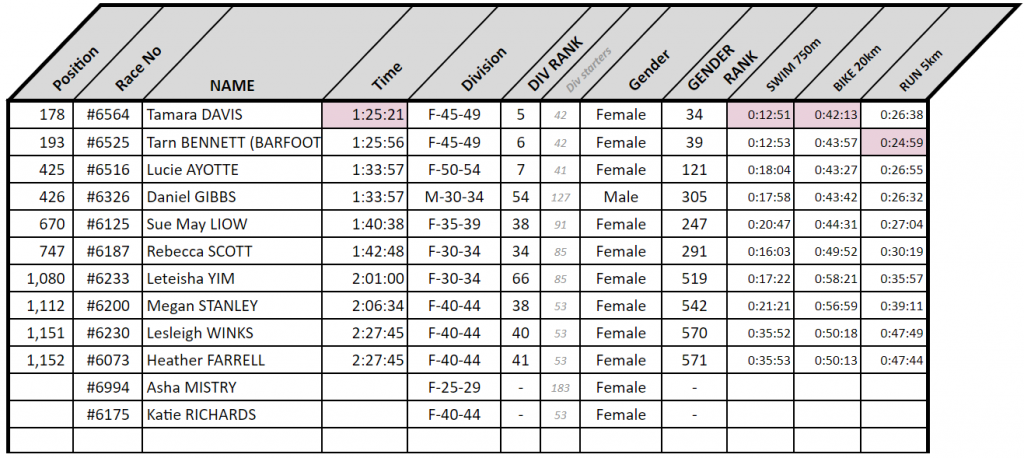 Standard Distance - Teams

It's no surprise that when asked, most clubbies' highlight of the weekend was the post-race refreshments and BBQ. Scott Bassett was the people's champion, making sure everyone was fed and the beers were cold. Scotty also set a blistering pace up Alex Hill, beating half the field while carrying extra bags of ice. We have it on good authority that it's a new Strava record.
Club spirit was strong again this year, with clubbies helping clubbies out of dark places on the run. As usual, SBTC was the last to leave the hill – waiting and cheering for the last competitor on course. It's moments like this that really set the green army apart from the rest.
Huge kudos also to Sonya Stacey for finally achieving LEGEND status by completing her tenth moo tri! Enjoy the earlier wave starts and priority bike racking Sonya. You absolutely deserve it!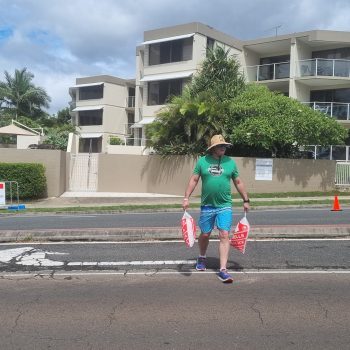 B.O.G. Award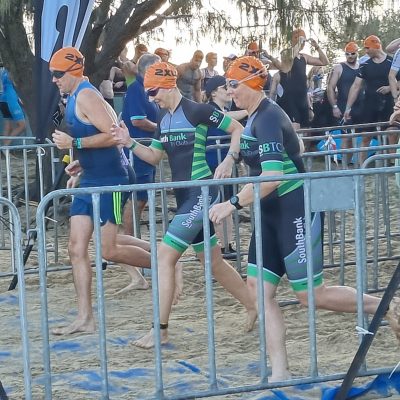 The BOG award undeniably goes to Lesleigh Winks. Lesleigh showed true grit and determination, tackling the longest ocean swim she's EVER done on the sprint Saturday. Lesleigh also backed up the next day, cheering on her fellow clubbies who were suffering in the Sunday heat. 
This race report was written by Fi Fewtrell and Adrijana Freeman.
If any SBTC clubbies are keen to help out with writing up a race report for an upcoming event, please email our Communications Officer at media@sbtc.com.au