"Ummmm, so did anyone bring a spare helmet?"
This kind of set the tone for the start to the weekend up at Hervey Bay, with a gear swap of mammoth proportions taking place on the Saturday to get everyone sorted. There may have been a clubbie wearing a scooter helmet for his ride, but it got the job done!
This weekend saw a cracking turnout of the Green Army, with clubbies doing the Pub2Club swim (too windy for the Barge2Beach unfortunately), HB 50 and the Hundy.
The Pub2Club saw three clubbies ready to race on Saturday morning. Well… one was there to race and ran into the water with the others, and the other two were really just a bad back and covid lungs masquerading as swimmers who slowly meandered into the water and walked as far as they could until they couldn't touch the bottom anymore and were forced to start swimming. Tarn and Tiff both swam their way to place 3rd place in their respective age groups – well done ladies! Heather was just there to make sure the sea lice were so well fed that they didn't make an appearance on Sunday. You're welcome.
Getting an early start on Sunday morning, the Bennets were on point, with Steve absolutely smashing it and coming first in his age group and Tarn finishing at a cracking pace to take 3rd in her age group. If only whale tails were given for the 50…. Fi and Glen also got their fiddy on, with Fi making the race her own by stopping off at the tent on her way to the finish chute to change into her thongs so she could dance across the line in style.
This year, the Hundy saw many first timers from the club racing – huge snaps to Adrijana, Lorna, Sue May, Fabian, Jess, Paul, Kate (McClure), Nicholas, Phil, Darren, and Nick, and teams with Sarah and James (the 'Tartan Unicorns'), and Liz, Moritz and Heather (the 'Tail Ender Contenders') – for their first of what will be many Hundy races to come! This awesome crew was rounded out with HB regulars Matt, Chrissie, David, Corie, El, Kate (Morris), Tiff, George, and Jonathon on course, with Scott manning the BBQ and pup Ziggy loving everyone in sight.
Swim conditions were perfect despite the difficulties with sighting while looking into the sun….I'm sure Strava shows some interesting shapes swum by people. Kudos to everyone for staying upright on the bike, especially when the wind started to pick up towards the end of the bike leg. The run leg through the club tents is a bit of a highlight of this race with music, cheering, and supportive beers being handed out along the way.
The Green Army was the loudest on course and also at the presentation ceremony with podiums to Matt (1st in his age group), Darren and Chrissie (both 2nd in their age groups) and David (3rd in his age group).
Next year the Hundy is on November 26… put it in your diary now!
Awesome work to all athletes who gave it at crack, and especially to all those Bankers who gave it their best in all 4 legs.
A summary of results from all the clubies on course are below (apologies if we have missed anyone – if so please let us know) and if you want to see in a bit more detail, check them out here.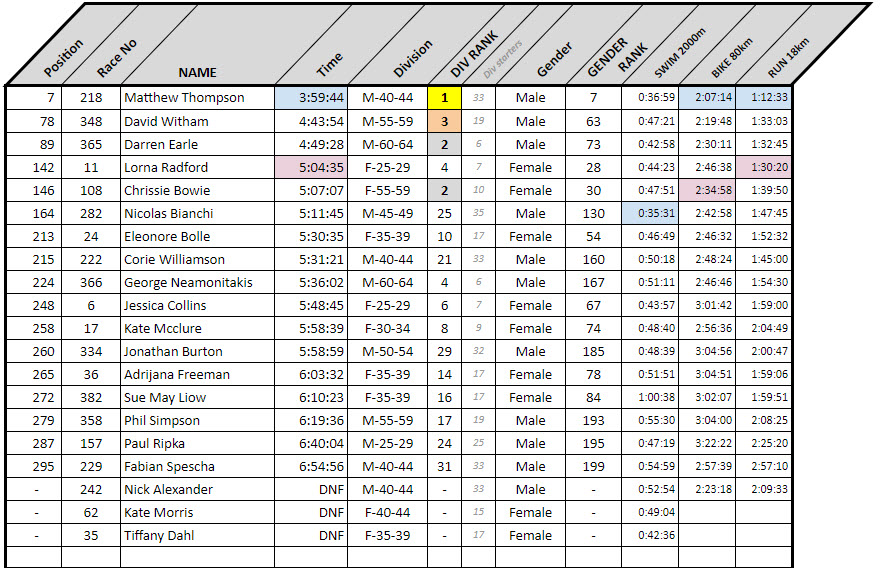 * for some reason the official results are showing the transistion times twice (i.e. what they show as the 'cycl'e time is actually 'T1 + bike' and similarly what they show as 'Run' is actually 'T2+Run'). But the maniac who collates the race results wouldn't stand for this massive injustice and has corrected it in the tables above.
Barge 2 Beach Swim ('Club 2 Pub')

Where to start! Cracking effort by every person on course and in the tent! 
Special shout out to Moritz, who the day he joined the club responded to a desperate plea and agreed to join a team, and smashed out a cracking time in the run, and to Jess for her beaming Cheshire Cat grin that lasted the whole run!
Many thanks to Tiff for coordinating everything on the day including a BBQ that was the envy of every other club, Fi for taking the tent, the Cartys for carty-ing everything back to Brisbane, and everyone who raced and supported.
B.O.G. Award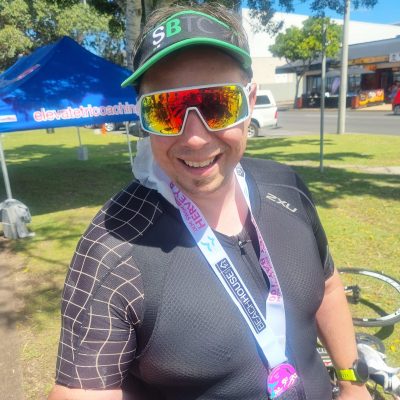 The Best On Ground award goes to Fabian who had a massive day, doing his first long course race after a less than ideal preparation (apparently being on holidays in Switzerland for 5 weeks can put a bit of a dent in your training plans). He still finished the race with a smile on his face after a long, hot day.
Tops off for Fabian !!!
This race report was written by the amazing Heather Farrell. 
If and SBTC clubbies are keen to help out with writing up a race report for an upcoming event, please email our Communications Officer at media@sbtc.com.au