After the last 2 years of challenges Tweed Enduro was back in full swing on the weekend in Pottsville.  There was a lot of excitement and anticipation  in the air as all the competitors headed to the start. Southbankers were there flying the flag for the club which was great to see.  Some did the full Enduro, others did the Sprint, Aquabike or competed in Teams.
The Swim in the River was amazing with reports of multiple sightings of fish made it enjoyable. The Ride though at times was bumpy in some parts but nonetheless there were opportunities on the straight where people took full advantage of utilising their gear with the constant sounds of 'whosh whosh' flying by. Unfortunately there were some cases of punctures as well and the effects of the heat starting to kick in for some of the competitors at the tail end.
Then theres the Run – the best part was running past the tri tents and even getting blasted by some supporters with water guns, hoses and sprinklers. It was hot and unpleasant for many particularly those who started later who endured the heat the whole distance! We had the Ironman compere Pete Murray who announced your name as you crossed the line which was a fabulous feeling and added to that sense of accomplishment of finishing a hard race that was predominantly challenging due to the heat, which I have heard it is hotter than Kona!
A Shout out to our first timers completing the full Tweed Enduro: Sarah Louise Carty, Joyce Van and Isabella Meda. It was also their very first race at 70.3 distance… well done Ladies!
Congrats also to the following Southbankers who also raced:
Brett Ronnfeldt and Ana Oertel – Tweed Enduro
Kevin Siah – 2nd Age Group Tweed Enduro
Chrissie Bowie – 2nd  Age Group Tweed Enduro
Michael Dixon – 1st Age Group Aquabike
Thank you to our family and friends who supported us.  Special mention goes out to Heather Farrell who drove down to Pottsville that morning and supported us at the start before heading back to Brisbane.  Also to James Carty for taking photos, videos during our race and setting up our club tent.  We are very grateful for your support – Thank You!
On that note it's great to see Tweed Enduro back in action and a great weekend was had by all in Pottsville!
B.O.G. Award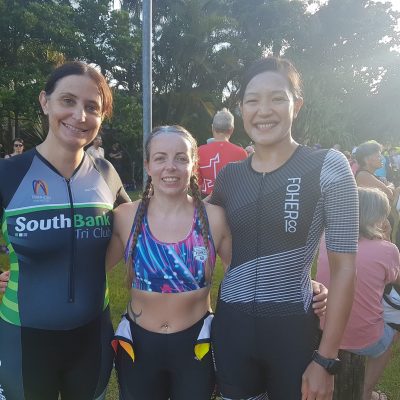 BOG Award – goes to Sarah Louise Carty who despite her injuries leading up to the Enduro performed amazingly well on the day with a cracking time and taking out 1st place in the First Timers category… well done Sarah!
Awesome work to all athletes who gave it at crack, and especially to all those Bankers who gave it their best in all 4 legs.
A summary of results from all the clubies on course are below (apologies if we have missed anyone – if so please let us know) and if you want to see in a bit more detail, check them out here.



This race report was written by Isabella Meda.
If any SBTC clubbies are keen to help out with writing up a race report for an upcoming event, please email our Communications Officer at media@sbtc.com.au