The End of the QLD Tri Series Season and the Graduation Race for our awesome group of Beginenrs
We were back to Raby Bay for Round 7 of the Queensland Tri Series which served as the finale for this season and also the graduation race for our most recent group of Beginners.
This was also a chance for SBTC to give a little bit back to the traithlon scene, with the Green Army taking over the drinks station out on the run course, providing some much needed hydration (and some sweet tunes!) to all of the athletes out on course.
Awesome work to all athletes who gave it at crack, and especially to all those Bankers who picked up podium spots.
Also a huge congratulations to all of our beginners who raced – we hope this is the first of many triathlons for you!
A summary of results from all the clubies on course are below (apologies if we have missed anyone – if so please let us know) and if you want to see in a bit more detail, check them out here.


Our social media elves weren't able to spot any Bankers in the results for this one, but we might have your name spelled wrong or something – if we missed you, please let us know) and we will give you a proper shout-out.
There were plenty of great results on the day, with our latest group of Beginners smashing goals all over the course. We also saw the Bennets doing their thing and both ending up on the podium in the Super Sprint. And it seems Tarn is dragging her new Scottish bestie along for the ride, with Bella Small ending up on the podium in the Super Sprint as well. It was a welcome (and last minute) return to racing for Sandra Wilson, who grabbed a spot on the podium despite being in hardcore cycling mode (and opting to race without any laces in her running shoes
). There were also podium spots nabbed by Michael Dixon and Joyce Van in the Club Distance and Courtney Dunne in the Super Sprint. 
Well done everyone who brought home some bling, as well as everyone else who gave it their best!
B.O.G. Award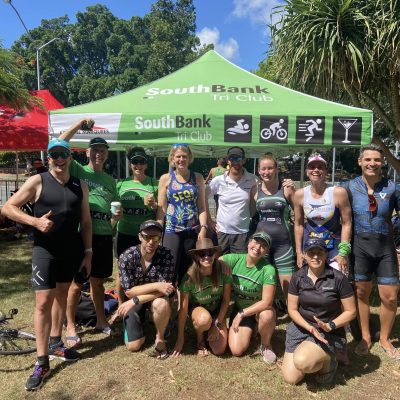 Best on Ground would have to go to all of the beginners who raced what will hopefully be the first of many triathlons still to come as part of the Green Army. Well done to all of you who raced and also to those who made it through the beginners group.
The award will be accepted by the amazing Coaches Simon Brooker, Nicole Hipkin,a dn Tiffany Dahl plus our wonderful Member Liasion officer Heather Farrell who all put in a huge amount of work in getting the Beginners Course together and getting our newest bankers ready for their graduation race.
If any SBTC clubbies are keen to help out with writing up a race report for an upcoming event, please email our Communications Officer at media@sbtc.com.au